For over 30 years, we have been quietly providing cooling, freezing and gas compression solutions to industry captains with innovative approaches to their manufacturing in the food & beverage sectors such as meat, seafood or beverages, or in the electronics, pharmaceutical and power industries. Many of our solutions use natural refrigerants for the most reliable, energy efficient design with superb controls.
We thank our customers for their repeat orders and referrals as we grow and expand with them. Consistent and continuous improvement has also enabled us to meet new challenges and provide innovative ideas for improved efficiency, reliability and safety.

BUSINESS PARTNERSHIPS
Parts, Field Services or Training
We develop business partnerships with our customers thru close consultations that often results in better solutions that fits their needs.
We also offer field services, conduct audits or provide Non-Intrusive or Operational Contracts for our customers. Working in partnership with our local or foreign service providers, we provide close support to all our customers.
Our Parts Program include in-house stocks and an excellent logistics network to ship parts direct to our customers in the shortest possible time. And our highly acclaimed training schools have been keeping engineers and technicians abreast of the latest technology, safety and controls to maintain reliability and consistency for your manufacturing operations.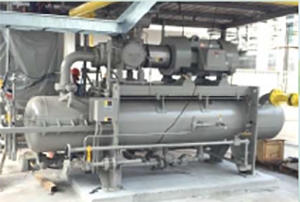 Natural Gas Compressor skid feeding stable fuel gas pressure to gas turbines for Sime Energy's Cogeneration Plant in Class 1, Div 2 hazardous area classification at Acidchem, Prai, 2016.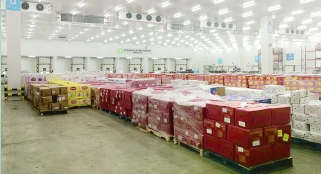 Using natural refrigerants in our refrigeration systems for cooling or freezing applications and achieve lower power consumption and be environmentally benign. Ammonia, CO2 or Propane for cooling or freezing or using Methane for power generation. Safely. Reliably. Working with industry experts and technology leaders, the exchange of ideas in forums and discussions help us develop new ways of doing things.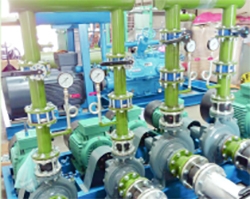 Factory Packaged NH3 Chiller to cool propylene glycol being readied for shipment for Coca- Cola-Pinya Beverages, Myanmar, 2015.


Building amazing refrigeration packages and plants with our very own variCOLD technology. These refrigeration packages include reciprocating or screw compressor units to offer low power consumption at all load conditions, lowers maintenance cost too.
High Bay (32m high) Automated Storage & Retrieval System (ASRS) Cold Storage Plant for SK Cold Chain, Selayang, Selangor. We provided inputs from concept to construction, system start-up and support. With full testing of insulation integrity and internal room temperatures.